Welcome to JapaneseExperts.net
An Expert Japanese Coach for
Homeschoolers!

Always keep your goals in focus. – Keep your mind on the things
you want and off those you don't. – Bruce Lee
NOT Homeschoolers? – That's fine, too!
YOU CAN…
SPEAK, UNDERSTAND, and REACH
YOUR GOALS
 in the Minimum of Time!
Breakthrough one-on-one personal training program helps you
not only ABSORB the language, but also DEEPENS your 
understanding of the customs, mannerisms and nuances
that are all part of Japanese culture.
EFFECTIVENESS is a key!
Imagine how family and friends will react when they see
you carrying on a full conversation – IN JAPANESE – 
understanding every spoken word and verbally interacting
with someone else who is fluent in the language.
My name is Yoko Tadda. I am a professional language instructor. Over the years I have taught literally thousands to master Japanese, as well as other languages, including English.
I've personally trained students of different ages who came from all kinds of different backgrounds. Through trial-and-error I have discovered and perfected the very best methods and systems for quickly and proficiently learning a language. I have created my own unique approach to coaching you to quickly and effectively master the Japanese language.
Here's what you can expect from my MIRACLE training methods:
Merit – Careers? Fun? Academic achievement? You got it! I'll teach you the correct, proper way of speaking Japanese, along with some of the "slang" or more commonly used expressions so you can communicate naturally.
INSPIRATION – You can expect support and encouragement every step of the way, focusing on your strengths and concentrating on areas that may need to attention.
RESOURCEFULNESS – Mastering a language goes way beyond vocabulary and sentence structure. I'll give you background information, historic perspective and more so you can understand and master the many nuances of Japanese. 
ACHIEVEMENT – You will be amazed at how quickly you will learn and how much your Japanese language skills will improve over a short period of time.
CONFIDENCE – Learn to speak with purpose and master the right inflexions that are critical to effective Japanese communication.
LIGHTNING SPEED OF MASTERY – Learning Japanese doesn't have to be a grind! I make every lesson a rewarding, positive experience to keep you motivated and focused.
EFFECTIVENESS – Use what you learn in everyday situations, whether it's for speaking or writing, for business or personal purposes. Use your precious time effectively! No commute to your teacher any more! 
Why JapaneseExperts.net?
Love Hayao Miyazaki's movies such as Totoro,
Ponyo, Kiki, and etc.?
Wish you could understand what's going on
without looking at English subtitles? 
Love to work for Nintendo or other
game software companies in Japan?
Wish you could handsomely get paid,
thanks to your Japanese fluency?
Hey, a potential Japanese expert!
My name is YOKO. NOT Yoko ONO, BUT Yoko TADDA
– like "Tadah!" I'm a Japanese magician (!?).
I cast a spell on YOU, and…
YOU will speak Japanese so fluently
as if you were a native speaker of Japanese!
YES! YOU CAN WITHIN 180 DAYS!
ONLY IF YOU STUDY WITH ME, A JAPANESE EXPERT!
Are you getting anxious? Want to know what it is all about?
Why not try once? Who else can teach you at any time you want?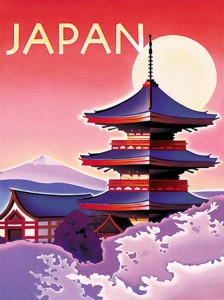 I confess I know NO magic. But I have a brain and personality which work MAGIC! To prove this, let me tell you a little more about me.
I learned 20 languages when I was young. I went to a lot of language schools and spent thousands of dollars. That experience of mine told me how to learn foreign languages quickly and effectively.
If you are 15 years old or older and you want to speak a new foreign language, you have to cram the grammar into your system. There are lots of self-study books and even audio books available nowadays. You use them and study by yourself. If you need help at this point, go to a class of your chosen language.
You only have 3 months for an easy language like Spanish to complete its grammar while it may take you 6 to 12 months to manage the grammar of a very difficult language like Russian or JAPANESE. This is your first step.
As a second step, you go to a language school to recruit your best possible teacher. Don't forget you have to take private lessons (DON'T GO CHEAP!), not a class. Some teachers are good for the class, but not for your private tutor. That's why.
After hiring one, you and your teacher will discuss how to structure your lessons EFFECTIVELY based on your goal and within the time frame you have to reach your goal. You may have to take lessons every single day. It is costly. I know. But results? Amazing!
You need an inspiring episode? Here you go…
   Are you familiar with the name – Dr. Tonegawa at MIT, who is a Nobel Prize Laureate in physiology? When he was selected to be a scholar at MIT, Tonegawa was not able to communicate well in English. He had to leave for the US in one year! What do you think his dad did to solve this major problem?
   Tonegawa's father decided to hire a live-in native speaker of English for his tutor. Tonegawa was put in a situation where he had to speak English 24 hours a day for the next 365 days before he took off to MIT! Tonegawa's awesome father took most drastic action so his son would turn miraculously into a native speaker of ENGLISH!
   Can you imagine how much it cost Tonegawa's father to do this? His ANNUAL SALARY! Tonegawa's father spent his annual compensation from his career on his son! What an investment! Result? In Massachusetts, Americans mistook Tonegawa for an American-born scientist! Got it?
   Crush the grammar and memorize key expressions of the target language, and then train yourself by speaking the language to a native speaker of the language as often as possible. [At this point, you don't want a group study or self-study. You are wasting your time.]
This is the secret of a language acquisition!
   Now you understand YOU need private lessons with an excellent teacher to reach your goal within your time limit, don't you?
YES! YOU CAN WITHIN 180 DAYS!
ONLY IF YOU STUDY WITH ME, A JAPANESE EXPERT!
   Let's discuss the qualification of your private Japanese teacher at this point. That's because it is critical for you to hire a qualified teacher. Indeed, private lessons are costly (My normal hourly charge ranges $80.00 – $100.00.). If you make a wrong choice, you are throwing your hard-earned money in a ditch. Not good at all!
   Also, you should be taught in an EFFECTIVE way (My teaching is so efficient that my students get to their goals in a lightning speed. That is one of the reasons I am very costly. But "Cost Efficient!") Which would you prefer? Low cost with no results? Or high cost but with eye-popping results? It's your choice!
YES! YOU CAN WITHIN 180 DAYS!
ONLY IF YOU STUDY WITH ME, A JAPANESE EXPERT!
    Do you know how much Bruce Lee charged for his private lessons in 1966? $275.00 per hour!! That is equal to $2,045.42 in 2016! Lee's celebrity students, including Steve McQueen and James Coburn, paid this amount. Compared to Bruce Lee's private lessons, mine seems to cost you nothing!
   Do I sound arrogant? I don't mean to say I am to my students what Bruce Lee is to his celebrity students like McQueen or Coburn. Two reasons: 1) Just because he was a superb martial artist, that doesn't necessarily mean he was an outstanding teacher. 2) Bruce was born in 1940. So, he was only 26 when he taught those big names. Let's say he started to train martial arts when he was born. Still, he had only 26 years of experience in that field. I have 35 years of experience in teaching languages I specialize in.
   Don't you like to "test" your Japanese teacher to see if she qualifies? Ask her to explain what "Soko-no Tsuma (糟糠の妻)" means in Japanese. If she fails and you still like her, give her a second chance. Ask her to explain what "Oyako Donburi (親子どんぶり)" means. Yes, "Oyako Donburi" is the name of traditional Japanese dish, as you may know it. But it can be used very figuratively – in a negative way. If she fails again, dump her! She is useless to you. A good Japanese teacher has to know Japanese culture inside out to explain those expressions above.
Now you wonder – Why Skype?
   Statistically speaking, # 1 reason to quit private lessons? – Commute!! Skype solved the problem! Think about gas you need to commute to the place to get the lesson! Also, no good teacher may be available locally. You can get a Superwoman teacher remotely by Skype! Besides, you can sit back on your comfy couch (even in a bathtub!?) and relax while you are taking my lesson! Still you are getting the results! How about that!                           
Are you getting interested
in my Skype Japanese lessons?
Why don't you try one time?
Become a Japanese expert!
*For YOU to be a Japanese expert in 180 days, I will put my whole heart and soul into coaching you Japanese language. You will be amazed at your accomplishment in 6 months.
Learn Japanese for your life, or die – it's totally up to YOU!
YES! YOU CAN WITHIN 180 DAYS!
ONLY IF YOU STUDY WITH ME, A JAPANESE EXPERT!
News
Blog