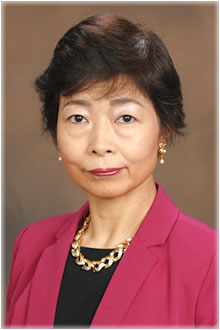 Yoko is a native speaker of Japanese – Born in Wakayama, Japan, on July 3, 1961. Very unique and independent child from the beginning. Loved singing, but she didn't know her potentials until she met a *Shigin teacher when she was in 6th grade. She had never had this life changing experience before.
 In those days, not many kids would ever want to learn the songs of this kind because kids don't usually even know how to read the poetry written only in Chinese characters called Kanbun. The Shigin teacher, Mr. Fuyuki, said, "Yoko, just try to recite the way I taught you tonight. Don't worry. Nobody expects you will be good at it from the beginning. If you don't feel comfortable, don't push yourself to do it. Nobody will blame you. You are just a kid."
 And she did. She did it very well indeed in front of some 15 adults. From then on, it looked as if her future life as a Shigin teacher/performer had been nailed. The life, however, is not that easy. She practiced Shigin anywhere and anytime – in the open air every night, or in futon …. She became better and better day by day.
 By the time she became a high school student, Yoko had won so many trophies and prizes, which made adults frustrated and jealous. "As long as Yoko stands up on the stage, she takes away all the prizes! We have to think about how to get rid of her!" That's exactly what they did.
 Yoko left them behind. She didn't regret it. She couldn't stand almost all adults around her trapped a 16-year-old girl and harmed her. Yoko had to seek for an alternative so she would be able to be unique and independent for the rest of her life. At that moment, she was very versed in Kanbun, of course. She had memorized about 500 Kanbun poems written by various Japanese and Chinese poets. She was versed in Japanese classics because she was very familiar with historical incidents and those backgrounds depicted in those poems. Yoko chose English, NOT Japanese. She decided to make her own living by teaching English.
 Right after she became a college student at 18, majoring American English, she started tutoring English to middle schoolers and high schoolers. During her graduate school days, Yoko finally got an official jobs at several private prep-schools and cram schools, teaching English to elementary school students in addition to those students mentioned above. Plus, she started to teach Japanese to Americans, who taught English conversation to Japanese adults at private language schools in Japan. She accomplished the professional seminar hosted by National Institute for Japanese Language and Linguistics. Thus, Yoko has taught thousands of students (This is NOT an exaggeration at all. A normal class size at Japanese private prep-schools is about 200, most of which were to drop out by the time of college entrance exams in February and March. Yoko is NOT a liar.) in Japan.
 Since she came to the US in December 1998, she has taken more than 20 – 30 part time/full time jobs for the living. However, it is only teaching/tutoring English and Japanese that has made her stand out. Yoko knows thousands of "good students" and "bad students" with different personalities and family backgrounds. She has her own style in teaching, but what makes her stand out in teaching is her impeccable integrity. She has an ability of seeing through the quality of people. She always loves to see her students grow. Testimonials will prove it all.
 Thanks to the latest technology, Yoko can extend her expertise to her prospective students, who are anxious to learn Japanese language or English, all over the world.
*Shigin: http://en.wikipedia.org/wiki/Shigin