Umisachibiko and Yamasachibiko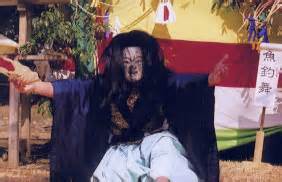 Hoderi never gave up on his fishing hook, which was indispensable to him, and blamed his younger brother so harshly and urged him to go get it back for him no matter what. Hoori, on the other hand, was totally at a loss because there would be no chance that he could get it back in the ocean.
 So, Hoori made 500 fishing hooks out of his treasure sword called Totsuka-no Tsurugi in exchange for his brother's fishing hook he lost. Hoderi refused to take them. Then, Hoori made additional 1000 fishing hooks to compensate the one he lost. Hoderi insisted that Hoori should get his original fishing hook back to him. Hoori was so devastated that he sat down on the sea sheshore, weeping. All of sudden, the god in charge of the tides in the ocean came across Hoori and asked him why he was weeping. He told the god what was going on.