Itsuse-no Mikoto Killed in the Battle <1>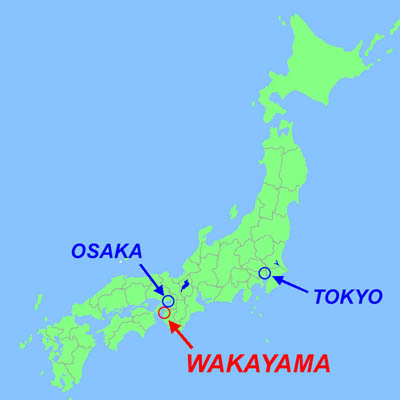 (Map of Wakayama, Japan)
 Itsuse-no Mikoto, the older brother of Kamuyamato Iwarebiko-no Mikoto (later Emperor Jimmu), got a serious bow injury on his arm during the battle against Tomibiko.
 He said, "We waged the battle toward the sun though we are the Heavenly Gods' children. That is the reason such an ignoble creature as Tomibiko could seriously hurt me like this! From now on, we have to fight with the sun on our back." That's what he did, leading his army northward from the south. He and his army finally got to Chinuno Umi, where he washed off his blood-covered arm. Chinuno Umi (Sea of Muddy Blood) is named for this incident.
 Then, Itsuse went down to Onominato in Wakayama to turn his army further north, where he yelled at the sky, saying, "What a shame on me! I'm dying because of this disgraced insury!" This was Itsuse's last words. Since then, the floodgate has been called Onominato (the floodgate of the man). The tomb of Itsuse is located in Kamayama in the city of Wakayama.
 Kamuyamato, who lost his brother, still proceeded southward in spite of his deep grief. When he and his army arrived in Kumano (around Shingu area), he noticed a big bear show up and disappear several times. Finally, the mysterious bear totally disappeared, but, on the other hand, Kamuyamato fell in sick. He had to stay in bed for a long time. In addition to him, his soldiers fell in sick like Kamuyamato and had to stay in bed!
 In the meantime, Takakuraji of Kumano brought in a long sword to offer it to Kamuyamato. He was still sick in bed, but he got up at last and said, "I have been in bed for long" as soon as Takakuraji struck the sword in front of Kamuyamato. Takakuraji offered the sword to Kamuyamato. When he held the sword in his hands, the Earthly God in Kumano agitated by the Heavenly Gods was cut down by the sword without Kamuyamato doing anything with it. When the evil god was killed by the mysterious power of the sword, all soldiers of Kamuyamato, who were sick in bed, recovered immediately!